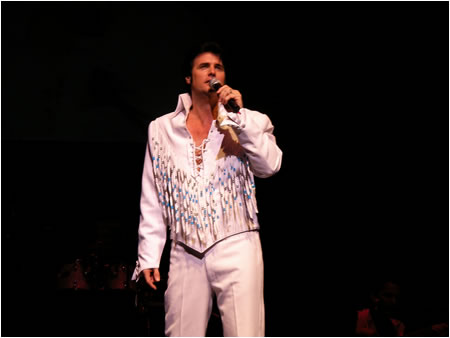 UPCOMING SHOWS ARE EVENTS THAT ARE  OPEN TO THE PUBLIC ONLY
(PRIVATE EVENTS ARE NOT LISTED)
SCROLL DOWN FOR UPCOMING CONCERT DATES 
MORE CONCERT DATES WILL BE POSTED SOON 
PLEASE CHECK BACK OFTEN FOR UPDATES
CHRIS MACDONALD'S MEMORIES OF ELVIS IN CONCERT MEMORIAL TRIBUTE
SATURDAY AUGUST 19, 2023
8PM DOORS OPEN AT 7PM
SEMINOLE CASINO HOTEL IMMOKALEE 
506 S 1st St, Immokalee, FL 34142
ON SALE  NOW 
Chris MacDonald's Memories of Elvis in Concert 
 SATURDAY OCTOBER 21, 2023 7PM-9PM
Pembroke Pines Charter School Fundraiser Concert
CHARLES F. DODGE CITY CENTER
FOR TICKETS AND INFO
ON SALE Friday August 11th 10am
Chris MacDonald's Memories of Elvis in Concert
SUNDAY NOVEMBER 5, 2023 7PM
BOCA BLACK BOX
ON SALE NOW
CHRIS MACDONALD'S MEMORIES OF ELVIS MERRY CHRISTMAS BABY DINNER SHOW
FRIDAY DECEMEBER 15,2023 
PALM BEACH KENNEL CLUB PADDOCK RESTAURANT
1111 N Congress Avenue West Palm Beach, FL 33409
CHRIS MACDONALD'S MEMORIES OF ELVIS ROCKIN BIRTHDAY BASH
FRIDAY JANUARY 5TH, 2024 8PM
BARBARA B MANN PERFORMING ARTS HALL
13350 FSW Parkway 
Fort Myers, FL 33919
Box Office: 239-481-4849
ON SALE SOON
CHRIS MACDONALD'S MEMORIES OF ELVIS ROCKIN BIRTHDAY BASH
SATURDAY JANUARY 27, 2024 8PM 
SUNRISE THEATRE 
117 S 2nd Street, Fort Pierce, FL 34950
PREVIOUS CONCERTS AND LOCATION MARCH 2021-JANUARY 2023
MARCH 5, 2021 8PM
Town Hall Event Center of PSL - Tradition Village Square Port Saint Lucie, FL
A BOCA BLACK BOX PRODUCTIONS VENUE
10799 SW Civic Lane, Port Saint Lucie, FL 34987
IN THEATER TICKETS ONLY
https://bocablackbox.showare.com/eventperformances.asp?evt=621
       March 6,2021
CHRIS MACDONALD'S MEMORIES OF ELVIS IN CONCERT
at the Lake Park Black Box Center for the Arts at
The Kelsey Theater
700 PARK AVENUE 
LAKE PARK FLORIDA 33403
call 561-328-7481
On sale now
Buy tickets to join us to see the concert at the theater with link below
https://bocablackbox.showare.com/eventperformances.asp?evt=535
T0 BUY TICKETS TO LIVE STREAM THE CONCERT FROM WHERE EVER YOU ARE ON YOU COMPUTER,SMART TV ,PHONE OR TABLET OR ROKU TV OR DEVICE
USE THIS LINK:  https://www.stellartickets.com/o/boca-black-box/events/chris-macdonalds-memories-of-elvis-in-concert
AUGUST 14,2021 8 PM
CHRIS MACDONALD'S MEMORIES OF ELVIS IN CONCERT
LAKE PARK BLACK BOX AT KELSEY THEATER
bocablackbox.showare.com/eventperformances.asp?evt=535
                                                                                                                                        PHONE:
 561.483.9036
AUGUST 15,2021 7PM
CHRIS MACDONALD'S MEMORIES OF ELVIS IN CONCERT
BOCA BLACK BOX THEATER
8221 Glades Road Suite # 10, Boca Raton, FL 33434
TO BUY IN THEATER TICKETS
USE THIS LINK: https://bocablackbox.showare.com/eventperformances.asp?evt=560
OCTOBER 9,2021 7:30 PM
CHRIS MACDONALD'S MEMORIES OF ELVIS IN CONCERT
NORWOOD THEATER 
NORWOOD , MA
BOX OFFICE PHONE: 781.551.9000
                                                                                                                            BOX OFFICE HOURS: M W TH 12PM-4PM 
NOVEMBER 19, 2021 8PM
CHRIS MACDONALD'S MEMORIES OF ELVIS TRIBUTE SHOW
TOWNSHIP PERFORMING ARTS CENTER
COCONUT CREEK FLORIDA 
JANUARY 8,2022 7:30 PM
ELVIS BIRTHDAY BASH CONCERT WITH CHRIS MACDONALD
THE PARKER PLAYHOUSE
707 Northeast 8th Street
Fort Lauderdale, FL 33304
(954) 763-2444
tickets on line 
ON SALE NOW
https://www.parkerplayhouse.com/events/detail/elvis-birthday-bash-2022
January 14, 2022 8PM 
CHRIS MACDONALS'S MEMORIES OF ELVIS ROCKIN BIRTHDAY BASH
Sunrise Theatre
117 S 2nd St.
Fort Pierce, FL 34950
FEBRUARY 20. 2022 4PM MATINEE
CHRIS MACDONALD'S MEMORIES OF ELVIS 
THE PALLADIUM AT ST. PETE COLLEGE
 253 Fifth Ave. N, St. Petersburg, FL 33701 | 
TICKETS
BOX OFFICE (727) 822-3590 
Box Office Hours
• Tuesday through Friday, 12p – 3p
• Three (3) hours prior to ticketed event
OR ONLINE 24HRS A DAY
https://mypalladium.org/events/chris-macdonalds-memories-of-elvis/?fbclid=IwAR3Wi0xumKMlFq_2R-IAl3nGorZ8PgMk3PAFbbX8PySCeL99EqAZlpzwzf8
Premium General Admission: $42 – limited seating in rows nearest stage (100 tickets total available at this price – don't wait to order!).
Standard General Admission: $32.
Senior Rate: $30 – standard GA only.
Groups of 10 or more: $22 – standard GA only.
Student w/valid ID: $27 – standard GA only.
Effective Thursday, Aug. 26, 2021, St. Petersburg College expects face coverings to be worn by ALL individuals indoors at all college facilities.
ON SALE NOW
MARCH 3, 2022 6PM 
CHRIS MACDONALD'S MEMORIES OF ELVIS SHOW
with special guest Johnny T (tribute to teen idols)
Hilton Naples Ballroom
MARCH 25 AND 26TH 2022
CHRIS MACDONALD'S MEMORIES OF ELVIS DINNER SHOW (SOLO WITH MUSIC TRACKS)
OLD TOWN HALL THEATER
MEDORA NORTH DAKOTA
Experience the best of Elvis, enjoy some great food, and spend an evening at the Historic Rough Riders Hotel. But don't wait, this concert experience takes place in the historic Old Town Hall Theater, so space is limited. Book your experience package now!
TICKETS ONLY AND TICKETS,DINNER AND ROOM RESERVATIONS PACKAGES ON LINE:
Groups of 20 or more can receive discounted show tickets by calling our group sales office at 1-800-MEDORA-1
MAY 8,2022 (MOTHER'S DAY) 7:00 PM
CHRIS MACDONALD'S MEMORIES OF ELVIS IN CONCERT
BRING MOM OUT FOR SOME FUN! HAPPY MOTHER'S DAY
Images (Click a Picture to Enlarge):