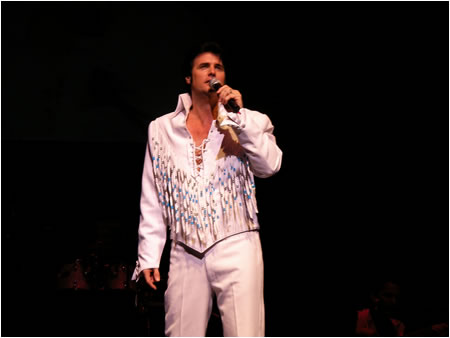 UPCOMING SHOWS ARE EVENTS THAT ARE  OPEN TO THE PUBLIC ONLY
(PRIVATE EVENTS ARE NOT LISTED)
SCROLL DOWN FOR UPCOMING CONCERT DATES FOR 2020.
MORE CONCERT DATES WILL BE POSTED SOON 
PLEASE CHECK BACK OFTEN FOR UPDATES
Every Saturday Night Memories of Elvis Concert  7;30 PM EST and Thursday Night 90's Country Music & Oldies Rock-n-Roll Concert 7:00 PM EST
FREE STREAMING FACEBOOK LIVE CONCERT
go to this link to watch live stream on Saturday and Thursday https://www.facebook.com/chriselvisfanpage
live stream videos are also available there after each show to view at your leisure
PLEASE CONTRIBUTE IF YOU ARE ENJOYING THE SHOWS
WITH VIRTUAL TIP JAR IF YOU ARE HAVING FUN AND WANT TO DONATE THANK YOU VERY MUCH
      January 17, 2021 7PM 
            CHRIS MACDONALD'S MEMORIES OF ELVIS ROCKIN BIRTHDAY BASH (WITH ROCKIN 4 PIECE BAND)
Live Concert at Venue
BOCA BLACK BOX 
8221 Glades Road #10
Boca Raton,FL 33434
Box office: 561.483.9036
https://bocablackbox.showare.com/eventperformances.asp?evt=535
ON SALE NOW
 WANT TO PURCHASE AND LISTEN TO OUR MUSIC ON YOUR ANDROID DEVICES WITH AMAZON?
"Chris MacDonald's Memories of Elvis Live in Concert Double CD" 
www.amazon.com/Chris-MacDonalds-Memories-Elvis-Concert/dp/B0089QMB2C/ref=sr_shvl_album_1
Original country cd entitled "Chris MacDonald No Misconception CD" 
www.amazon.com/No-Misconception/dp/B0019A1UOK/ref=sr_shvl_album_2
Country Dance Favorites CD (Chris MacDonald Cover CD of Classic Country Line Dance and Slow Dance Hits)
If you enjoy enjoy our shows,website and YouTube Channel and would like to donate it would be greatly appreciated Please click on the paypal link below.Thank you very much.
Images (Click a Picture to Enlarge):