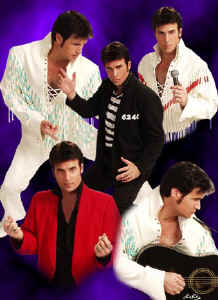 FAN REVIEWS FROM TICKETMASTER.COM
Chris MacDonald Embodies the Spirit of Elvis
Bergen Performing Arts Center
As a tribute to the King of Rock & Roll, Chris MacDonald brings Elvis' spirit to "life" with his own voice, without making it a cheap imitation. During the concert, Chris engaged the entire audience with his personality and "Elvis-isms" right down to throwing out Hawaiian leis to the audience, little stuffed teddy bears and, of course, the signature Elvis scarf. Chris also brought on stage DJ Fontana (Elvis' original drummer) to play a few songs with him. What a treat for us to witness this living legend! After the concert, Chris remained in the lobby to sign autographs and take pictures (he even let me sit on his lap... **swoon**) Chris certainly reminded my mother & me of our own "Memories of Elvis." We sang along to every song and had a wonderful time!
Bergen Performing Arts Center
Chris MacDonald did a fabulous job portraying Elvis on stage. The concert began at 8:00 and ended at 11:00. He sang every popular Elvis song. The concert had a nice flow to it. He covered the songs from the beginning of Elvis' career to the end. I am so glad I went to see him. What a great night I had! Don't second guess yourself when contemplating purchasing tickets to this event. You will definitely enjoy this concert. GREAT JOB!
Favorite moment:  Entire show
Setlist:  Every Elvis song
Bergen Performing Arts Center
Phenomenal performer. Looked like Elvis and sounded like him. He sang song after song for over 2 hours. You get your money's worth. If you love Elvis, I would recommnend it. :)
Chris Macdonald was awesome!!
Bergen Performing Arts Center
The show was incredible....3 hours of non stop singing! He put on a show I can't wait to see again!
Favorite moment:  When he sang to two little girls in the front row and threw them each a teddy bear!
Bergen Performing Arts Center
Excellent show Chris has a powerful voice and the band was great!
Chris MacDonald was incredible!!
Bergen Performing Arts Center
By far the best, most energetic tribute to Elvis I have ever seen. His voice is fabulous and he performed tirelessly for 2 1/2 hrs. Then came immediately out front to greet his fans, take pictures & sign autographs! Chris is unbelievable. We were completely blown away!
Favorite moment:  When he sang Hurt.
Setlist:  Too many to share. I would guess over 40 songs.
Below is a partial listing of venues and references where Chris has performed Only tribute artist Hired by Elvis Presley Enterprises To perform at the Heartbreak Hotel at Graceland in Memphis Tennessee for 7 years for Birthday week and Elvis week festivities EP's Restaurant on World Famous Beale Street.
The Hard Rock live at the Seminole Hard Rock Hotel and Casino with Elvis's original back up singers The Jordanaires" and his original drummer D.J Fontana.
Many performances for private and public events for the Seminole and Miccosukee Tribes of Florida.
Legends in Concert, Branson MO
Las Vegas,N.V. Hollywood
Florida Broward Center of Performing Arts Ft. Lauderdale
Fl. War Memorial Auditorium.
Harley Davidson Motorcycles 100th Birthday Party Milwaukee Wisconsin Lady Luck Casino, Oshea' s Casino Las Vegas
Hollywood Beach Boardwalk Concert Series
Coral Springs Center for the Arts Coral Springs,Fl.
Barbara B. Mann Performing Arts Hall, Ft Myers Fl.
Clemens Center for the Arts Elmira, New York
The Maryland Theatre Hagerstown
Maryland The Maltz Jupiter Theatre Jupiter, Fl.
The Olympia Theatre at the Gusman Center for the Arts Miami ,Fl.
The Sunrise Theatre Ft. Pierce, Fl.
The San Jose Center for the Arts Ballet Kick off Event San Jose,Ca.
Towson University Baltimore, Maryland
Marriot Marqui Time Square New York, N.Y
Up John Corporation NFL Alumni
General Motors Corporation Southeast Publication
Ford Motor Corporation Centex Rodgers Construction
Price Waterhouse Accounting Lucent Companies
Associated Grocers Hearst Magazines
and many others!